With so many skincare solutions flooding the market, things can get confusing. The latest addition to skincare routines is serums. But you might be wondering if including them in your private label skincare brand is a good idea.
Here are some useful data points for you:
By 2025, the global serum market is projected to reach $261.38 billion.
It is growing at a Compound Annual Growth Rate (CAGR) of 5.96%.
The major markets are Asia-Pacific, North America, Europe, South America, and the Middle East.
This number holds a lot of promise. So, if you want to learn more about serums and how to find OEM manufacturers to help you get started, we have prepared this simple guide for you.
What are Facial Skincare Serums?
Serums are slightly viscous concentrated liquids, with a consistency between water and milk. They are typically used after cleansing and before moisturizing.
Serums contain small molecules, making them easily penetrate the skin. They have highly concentrated, highly active ingredients that are effective in reducing wrinkles and other signs of aging.
While serums contain similar moisturizing ingredients like ceramides and hyaluronic acid, they are not moisturizers themselves. Serums target specific skincare concerns, while moisturizers act as a protective barrier on the skin's surface, retaining all the beneficial ingredients within the skin.
The Difference Between Serums and Essences
One of the biggest confusions in skincare is whether serums and essences are the same. Therefore, some people can interchangeably use them. The truth is that they are both similar and different to some extent.
They are similar because they both target dark spots and fine lines, bringing a beautiful glow to your skin. While they share similar benefits, they are different.
Essences and serums also differ in formulation and concentration. Essences have a higher concentration of active ingredients compared to serums. Serums have a thicker consistency than essences.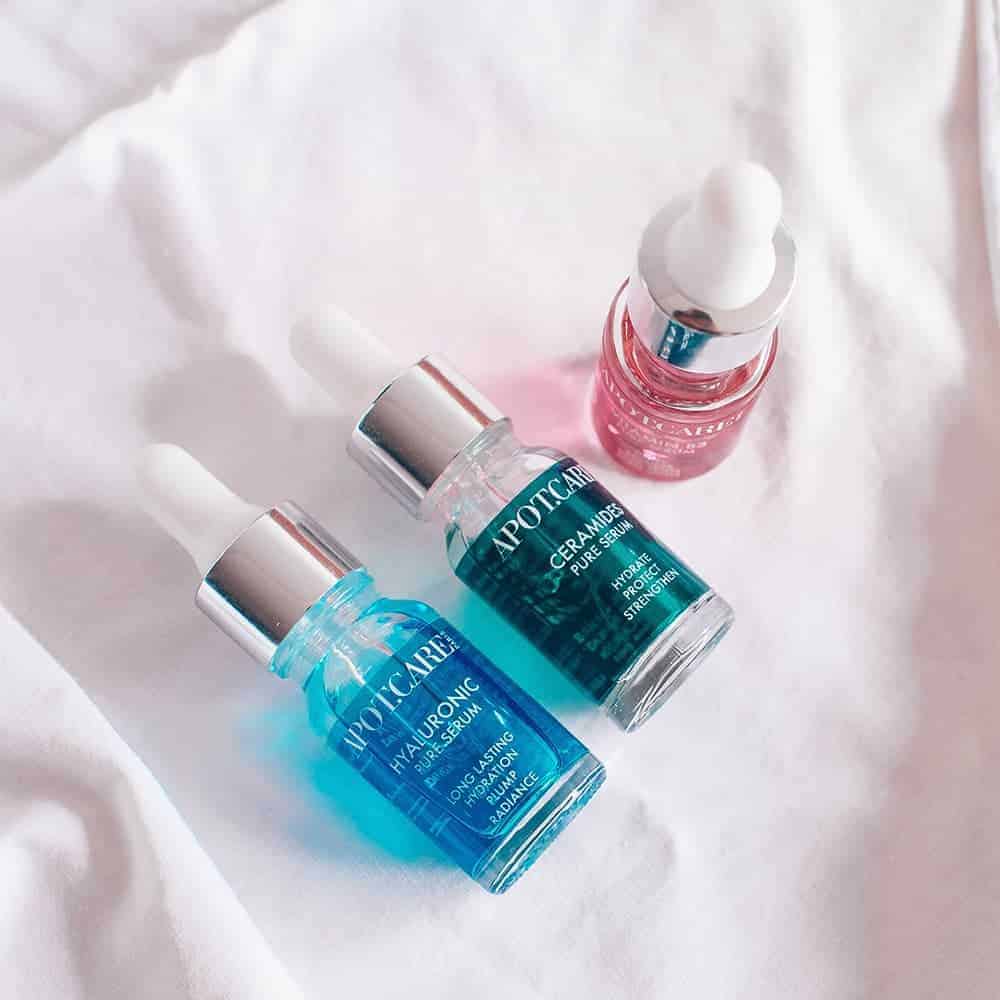 Serums vs. Essences: Which One to Use
As mentioned earlier, serums have a higher concentration of active ingredients, making them more potent than essences. They are crucial for addressing specific skin concerns like excessive pigmentation and dryness.
For example, if you have dry skin, you would use an essence with hyaluronic acid as the active ingredient. If you want to remove dark spots, you would use an essence with vitamin C as the active ingredient.
At the same time, if your skin is sensitive and prone to irritation, you would use an essence. You can achieve the same results, but the formulation is gentler.
Types of Skincare Serums
There are different types of serums for each target market. Here are some popular ingredients and their common uses:
Anti-aging Serums
As the name suggests, these serums use essential anti-aging ingredients to target wrinkles and fine lines, slowing down the aging process.
Although named as such, anti-aging serums are suitable for all skin types. The most commonly used ingredients in anti-aging serums are:
Retinol
Caffeine
Hyaluronic acid (often labeled as sodium hyaluronate)
Green tea
Polysaccharides
Lactobacillus
Bakuchiol
Astaxanthin
Myostatin inhibitors
Botulinum toxin
Snake venom peptides
Escin
Antioxidant Serums
These serums protect the skin from pollutants and free radicals. They also prevent visible signs of aging such as fine lines and crow's feet. They contain ingredients that repair and heal the skin.
The most common ingredients include:
Resveratrol
Vitamin A
Vitamin C
Vitamin E
Melatonin
Niacinamide
L-ascorbic acid
External smoke
Ceramides
Panthenol
Probiotics
Centella Asiatica
Hydrating Serums
As the name suggests, hydrating serums replenish moisture and add extra hydration to the skin. Therefore, it is suitable for people with dry skin. However, it is also beneficial for oily or acne-prone skin as it targets specific areas that need hydration.
The most common ingredients in hydrating serums are:
Hyaluronic acid
Panthenol
Squalane
Thermal water
Peptides
Lumicol
Whitening Serums
Also known as color-correcting serums, they target skin issues like excessive pigmentation, fine lines, and enlarged pores. They can also inhibit pigmentation and brighten the complexion.
Whitening serums are particularly suitable for those who want to even out their skin tone or have issues with excessive pigmentation. Some ingredients we use in whitening serum formulations are:
Arbutin
Kojic acid
Phytic acid
Vitamin C
Azelaic acid
L-ascorbic acid
Glycolic acid
Niacinamide
Aminoethyl phosphinic acid
How to Start Your Private Label Skincare Serums
Are you ready to start your private label skincare brand? Here are five simple steps to do it:
Contact us for free advice.
Our skincare sales consultants will help you select the best options for your brand. Let them know what you want, including any specifications or special formulations you have in mind.
Sampling.
We will send you samples for you to try out the products we offer. If you want to add fragrances or ingredients, or if you want to modify the formula, let us know. You can order serums with different active ingredients based on skin needs.
Labels and packaging.
Once you are satisfied with the formula, our design team will work with you to create the best packaging design for your products.
Manufacturing and delivery.
Once everything meets your standards, we will start the manufacturing process. You will receive ongoing updates until you receive the products.
If you want to learn more about our projects and the processes involved, read our case studies. Contact us now for more in-depth information about the options you have. Our team of sales engineers is ready to answer all your inquiries!